LOWER MOKELUMNE RIVER
FLOAT TRIP

ABOUT: Below Lake Camanche Dam near the town of Lockeford, the cold, clear, Mokelumne River winds its way among the oak trees and vineyards. Teaming with rainbow trout, with the possibility of fish over twenty inches, it offers the fly fishermen excellent angling opportunities. The Mokelumne is an easy river to wade, and my clients and I often catch fish on dries, nymphs, and streamers on each guided trip.
"I generally float the Mokelumne
during the months of May, June & July"
EQUIPMENT: Three and four weight rods are the preferred choice for dry fly fishing with Elk Hard Caddis, Stimulators, Parachute Adams, and Pale Morning Dun patterns providing the best results. Most nymph fishing is done with nine foot rods in four and five weights, with caddis pupa, flashback pheasant tails, and birds nest being the top flies. Streamer fishing is done with six and seven weight rods with sink tips or sinking lines with floating running lines weighing between 200 and 250 grains. Small clousers and Olive Woolly Buggers are the flies of choice.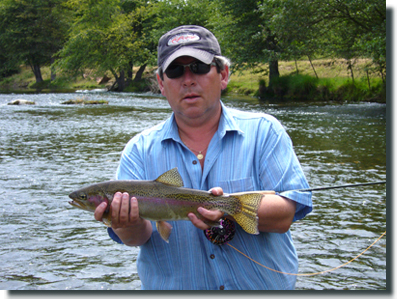 WHEN & WHERE: I generally float the Mokelumne during May, June, July, and August in my 13-foot Koffler Drift Boat. I meet my clients at the Stillman McGee County Park off Mackville Road. To reach the park take Highway 88 off Highway 99 and head north through the town of Lockeford until you reach Mackville Road in the town of Clements. Make a left on Mackville Road and go approximately two miles until you reach the county park on the left just before the river.

2016 Guide Rates
Full Day Trip: $550
Includes Equipment, Flies & Lunch